Alumni Achievements: Cleveland 48er Wins "1917" One-Shot Film Challenge, Produces New TV Show For Amazon Prime, And Shoots Feature In Times SquareTuesday, January 28, 2020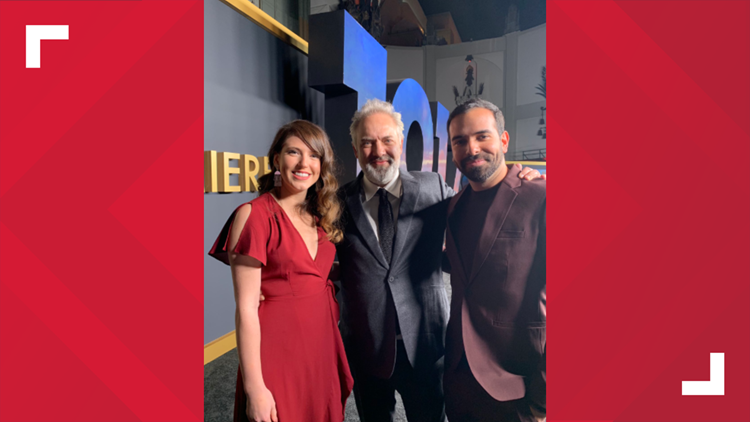 Filmmaker Conrad Faraj (right) pictured with his writing collaborator Hannah Lane (left) and director Sam Mendes (center) in LA at the world premiere of 1917
Cleveland filmmaker Conrad Faraj is on fire.
His filmmaking career is blowing up on a seemingly day by day basis. We featured Faraj in an article early last year, after winning Best Film in the 2018 Cleveland 48HFP and having his feature film Fighting the Sky picked up for distribution and featured in Family Video stores around the country. Now less than a year later, we're featuring him again: after winning the Cleveland 48HFP a second consecutive year, Faraj continues to kill it, with a number of wins in his other filmmaking endeavors that prove that hard work, hustle, and creativity make up a recipe for success in the filmmaking industry.
Most notably, Faraj was the winner of the 1917 One-Shot Film Challenge. For those yet to see this Oscar nominated feature, 1917 is a WWI war epic directed by Academy Award-winning director Sam Mendes. The film tells the story of two young soldiers tasked with delivering an urgent message to call off an attack that is doomed to fail. Besides having a great story and stellar acting, the two hour film is shot entirely in one take.
To promote the film, the producers sponsored a one-take film challenge of their own--filmmakers had to create their own short one take film about someone delivering an important message. Faraj's film "The Wedding Runner" was hand picked by director Sam Mendes and 1917 producer Pippa Harris as the winning film out of over a hundred entries from around the country.
As part of his prize, Faraj was flown out to LA to attend the world premiere of 1917, where he got to rub elbows with the cast & crew of the film, and meet none other than director Sam Mendes himself. For Faraj, who counts Mendes as one of his personal heroes, this was an unforgettable experience. "It was surreal," he said. He goes on to describe meeting Mendes, where the director came up to Faraj and said "Hey look, I've seen your movie, now come and see my movie."
Faraj thinks the exposure from his experience has opened up more doors for him, as many people have started to take an even greater interest in his filmmaking.
"The Wedding Runner", Faraj's winning film from the 1917 One Shot Film Challenge
Now for most people, this would be the biggest news of their year, possibly of their career. But less than a month after Faraj was in the news for winning the One Shot Film Challenge, he was in the news again, this time for an even bigger project.
Earlier this month Faraj announced his partnership with Amazon Prime Video to create a new sitcom called Making It...In Ohio, which is scheduled to hit Amazon Prime later this fall. The scripted sitcom, which he describes as a cross between Parks and Recreation and Friends, is about a group of rag-tag Cleveland filmmakers trying to make it in the entertainment industry.
The series was created and will be produced by Faraj, and is based on his own experiences working as a filmmaker in Northeast Ohio. "It's a little bit sort of autobiographical, because I've been making films with my team for many, many years. Over 10 years," Faraj said. "We're taking a lot of our experiences as filmmakers throughout the last couple years, and doing it as a situational comedy, and it's going to be hilarious. And it's going to resonate with a lot of people trying to also break into the industry."
Though casting for the project will take place in Cleveland and LA, Faraj is hoping to film primarily in the Cleveland area, and feature as much local talent as possible. Casting will begin in late February and the ten episode first season is set to begin production in early spring, with a quick turnaround to get it ready to air on Amazon Prime this fall.
Watch the WKYC interview with Faraj about Making It...In Ohio
Finally, it is the dream of many independent filmmakers to shoot in one of the busiest and most iconic locations in the country, New York City's Times Square. For Faraj, this dream came true for him last fall, when the city and the NYPD closed down part of Times Square for an hour to shoot a scene for Faraj's upcoming feature The Stars and the Storms.
The film is a romantic drama that shot in New York and Cleveland, and Faraj believes it is his greatest work as a director to date. The film centers around a young actress from a small town with large aspirations. She then gets a call to work on a major film being shot in New York. It is there where she meets her co-star and the two form a real life romantic relationship. "Our film dissects what it's like to love, to lose, to fail, and succeed," Faraj says. "It's a film about the growth of the human spirit and the paths we all take to feel any kind of solace in an uncertain world."
Faraj credits the 48HFP with being a huge influence on his work as a director, particularly on this film. "A few years back my entire filmmaking career consisted mainly of genre films: horror, science fiction, fantasy, etc. But after drawing Drama two consecutive years in a row during the Cleveland 48HFP, I started to learn what it was like to truly direct actors without the safety net of a special genre, and began to rely heavily on my own storytelling."
Production for The Stars and the Storms began just ONE DAY after Faraj and his team wrapped up the filmmaking weekend for last summer's Cleveland 48HFP. He admits that that period of time was "a little insane", but attributes much of his grit and success to having an entirely supportive team helping him to carry the weight of all of these projects. "In many ways, the summer 48HFP is what brought a lot of us together for the first time on an actual set. It felt like family, and I'm so happy and excited to share what this family has created."
The Stars and the Storms is in the final weeks of post-production as Faraj and his team get it ready for international film festivals.
Production stills from The Stars and the Storms
So after all this, what does the future hold for Faraj and his filmmaking career? We're not sure, but we DO know that it will be filled with success, and many more film projects that we'll look forward to seeing.